Hi!

It's time for our first slash fic! The pairing will be Mal/Simon, and though this isn't my favorite slash pairing (*wink wink*) I hope it will generate a lot of interest and bring more slashers to our community. The working title for this fic is, Leavings.

Leavings:
1The quantity left over at the end of a process; a remainder.
2Remaining as a residue.

This working title is not meant to lead the story in any direction, merely to give us a jumping off point (and something concrete to call it).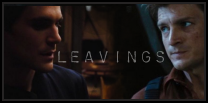 Fic Title: Leavings
Setting: Post BDM, Post Simon/Kaylee relationship

The coding you will use to link back to this organizational post is:
<a href="http://community.livejournal.com/ff_roundrobin/3193.html">Leavings Organizational Post</a>



Chapter 01 by
nomdeploom
Chapter 02 by
wiccanslyr
Chapter 03 by
awkwardjonas
Chapter 04 by
cathiexx
Chapter 05 by
wily_one24
Chapter 06 by
wiccanslyr
Chapter 07 by
lvs2read
Chapter 08 by
sabinelagrande
Chapter 09 by
wiccanslyr
Chapter 10 by
cathiexx
Chapter 11 by
matchlightfire
Chapter 12 by
wily_one24
Chapter 13 by
itinerant_vae
Chapter 14 by
sabinelagrande
Chapter 15 by
lvs2read
Chapter 16 by
nomdeploom
Chapter 17 by
itinerant_vae
Chapter 18 by
awkwardjonas
Chapter 19 by
rinalin
Chapter 20 by
sabinelagrande
Chapter 21 by
woodsong__1978
Chapter 22 by
lvs2read
Chapter 23 by
sabinelagrande
Chapter 24 by
itinerant_vae
Chapter 25 by
divided_poet
Chapter 26 by
awkwardjonas
Chapter 27 by
lvs2read
Chapter 28 by
itinerant_vae
Chapter 29 by
sabinelagrande

The End!!